Congratulations West Virginia
2007 NIT Tournament Champions!
Get your West Virginia 2007 NIT Champions tees right here, right now!

Now's the time to get your West Virginia 2007 NIT CHAMPIONS TEES, the same tees** like those worn on court after the Final Game by the Players and Coaches of this year's West Virginia 2007 NIT Tournament Championship Team. We'll ship you your very own 2007 NIT CHAMPIONS TEES promptly after you order them below...
**PLEASE NOTE: The tee shirts we'll ship are with the design as shown below. To see the design worn on-court by the West Virginia Mountaineers after winning the Final Game, go here. We apologize for any embarrassment or inconvenience this spelling oversight may have caused to the West Virginia basketball team, its many fans, and to the people of the State of West Virginia.
The 2007 NIT CHAMPIONS TEE is made of 100% heavyweight preshrunk cotton, and is offered in short sleeves, white only.

Available in adult sizes Small, Medium, Large, X-Large ($20.00) and XX-Large ($22.00).

Shipping and handling is calculated and added to your total at checkout! We use PayPal for our online payment processor, so your credit cards and online checks are always welcomed!

See even more NIT logo tee shirts and apparel!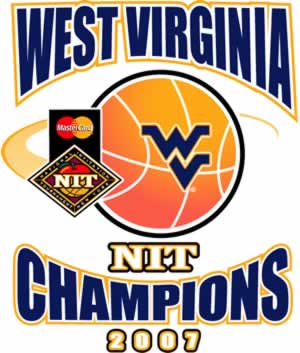 Order right here! These West Virginia 2007 NIT Tournament Champions tees are going fast, get yours now while we still have them available!


Click below to Order Size XX-Large